Green roofs

Extensive roofs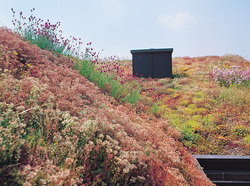 The term "extensive" is applied to lightweight, low maintenance installations where access is generally required for maintenance purposes only. The mix of vegetation will vary from sedum through to drought tolerant wild flowers, herbs, alpines and grasses and may also include some hardy shrubs and perennials. The substrate depth, irrigation and maintenance requirements will vary significantly, dependent upon the type of vegetation specified and its purpose, but will be significantly less than those for intensive green roofs.


---
Intensive recreational roofs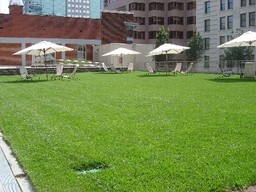 Roofs where the design may include lawns, flowerbeds, shrubs, trees all intermixed with paths, driveways and patios. These roofs also include vegetable plots, sports grounds, and park land.
---